Great grafs included.
College students as sugar babies, students falling off rooftops and a college journalist tracking the coronavirus in the White House.
Hey y'all! I hope you're doing well this Friday. Take some time this weekend to scroll through and check out these amazing stories from campuses across the nation.
---
News
Margaret Cataldi, The Prospector, The University of Texas at El Paso
Cataldi covers a local protest against a fracking plant that could be detrimental to the community. Cataldi includes the perspectives of the leaders of local climate groups and city council officials.
Rachel Smith, The Northerner, Northern Kentucky University
Smith's article talks about the upcoming flu season and which communities are most vulnerable to the effects of a 'twindemic.' They also provide resources on how students can get flu shots locally.
---
Features/A&E
Sofia Kwon, The Columbia Spectator, Columbia University
Kwon's analyzes Columbia University, which claims non-profit status, and its extensive history of gentrification. Kwon's use of time-lapsed graphics and quotes from long-time residents make for an extremely well-rounded piece.
Melanie Romo, The Runner, California State University, Bakersfield
Romo's article talks about a campus conversation about race that was headed by the 50-year anniversary of the Chicano Moratorium. Romo also covers the unique point of view La Raza magazine had in documenting the event and its implications.
---
Sports
Jana Morning, Viking Fusion, Berry College
Morning talks to three student athletes about their decision to sign with Berry, despite the lack of athletic scholarships. While they do touch on the pandemic's effects, they also include perspectives from transfer students about the balance between academics and athletics.
Connor Smith and Ian Hansen, The Daily News, Ball State University
Smith and Hansen cover racial issues on the men's volleyball team, highlighting the experience of one of the only African-American players. The article talks about how there is a lack of accountability when it comes to racial issues and what other players are doing to support their teammate.
---
Opinions
Davis Cobb, The George-Anne, Georgia Southern University
Cobb discusses the positives and negatives of remote learning, citing a balance between abstaining from distractions and finding motivation, which is a sentiment widely felt by students.
Jenny Romero, The Et Cetera, Eastfield Community College
In this extremely personal piece, Romero talks about their experiences with mental health and education. They also mention the stigma behind mental health and how it can be overcome.
---
Audio
Unnamed, WKNC 88.1 FM, North Carolina State University
In this episode of Gen Ed, a host interviews 'sugar babies', talks about the rise of college students becoming 'sugar babies' and the incentives posed by companies like Seeking Arrangement that draw them in.
Mena Haas and Jason Yearout, Campus Ledger Video,

Johnson County Community College
In the 40-minute episode, Haas and Yearout research the circumstances behind a local arrest, the protests surrounding it and the local ACLU chapter's response to the events in their town.
---
Broadcast
Lianna Golden, Temple Update, Temple University
In this broadcast, Golden covers a local incident that left two students in the hospital. The use of a drone and graphics to clarify how exactly the students fell was an impressive part of this package.
William Troyer ,91.1 The Globe, Goshen College
Troyer interviews two newcomers to Goshen's cross country team about how they are adjusting from high school practices to college routines. Troyer also covers how both athletes reaction to being recognized as athletes of the week.
---
Benjy Renton is a senior at Middlebury working on a joint project that tracks the White House coronavirus cluster. The website's interface just got updated today and includes the results of prominent politicians as well as those directly connected to the White House. Take a look here.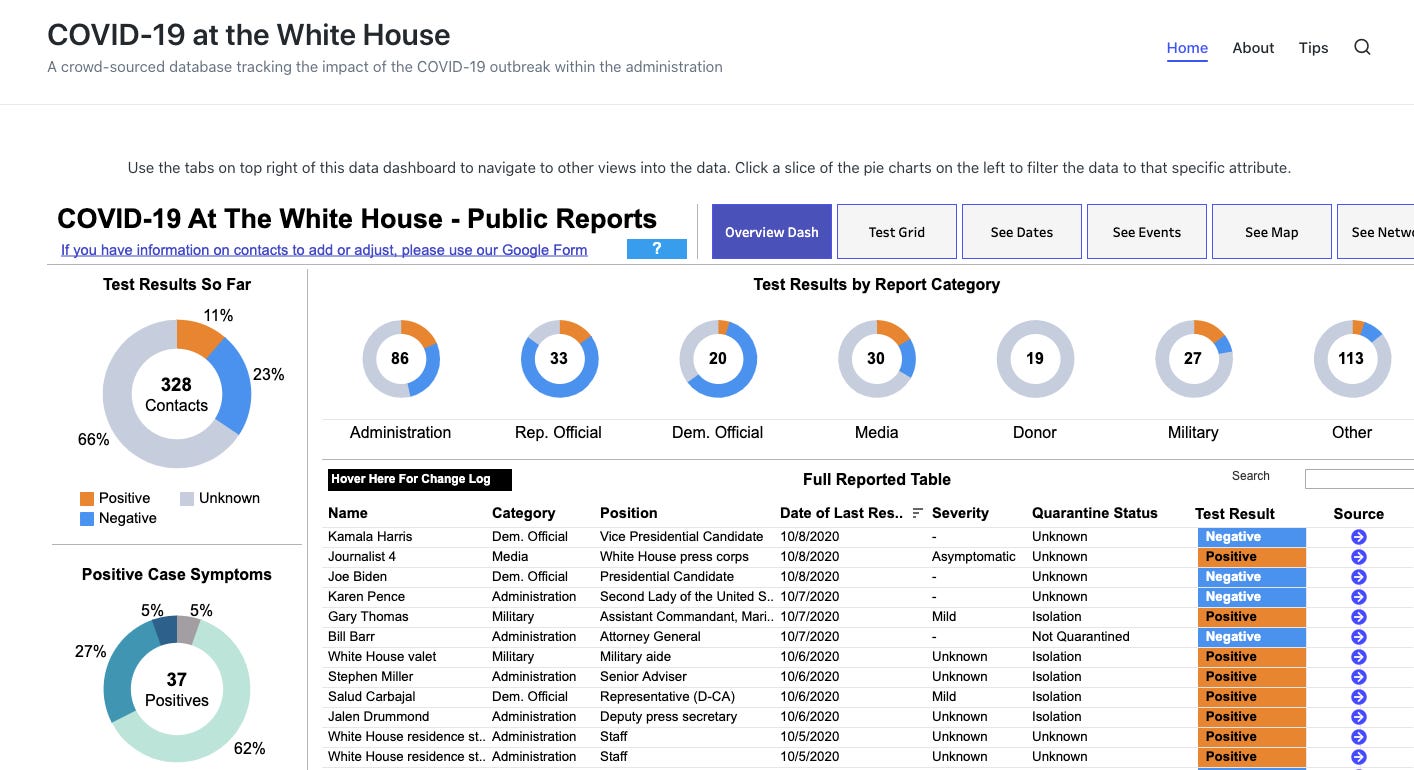 ---
Thank you so much for reading! I truly hope you enjoyed the work of these student journalists; I leave every newsletter crafting session inspired. If you have any campus media you'd like to pitch to me, feel free to drop a hello in my DMs. They're always open.
Signing off,
Alex